Elderly Monitoring Camera Singapore
Caring for an elderly relative or parents can be difficult, especially in Singapore when you're trying to satisfy all the competing demands of career, family, and life. Now you can stay connected with the people that matter to you most using our innovative monitoring solutions that include free remote viewing and two-way audio communication.
If you live away from your elderly parents and grandparents or can't spend all the time at home with them, an elderly security camera can help you watch them from afar anytime. This will certainly help calm minds knowing that they are safe and are well-taken care of by their caretakers.
Here are some examples of the typical usages of elderly monitoring cameras:
• You can install elderly security cameras to check on parents/grandparents with Alzheimer's or Dementia or mobility issues.
• A two-way audio camera monitoring system for the elderly allows you to listen and talk to your loved ones.
• IP cameras for elderly parents or grandparents can be used for watching caregivers or monitoring nursing homes to ensure they are away from elderly abuse.
• If you are a retiree and live alone, a simple monitoring system for the elderly in the home will secure your home and provide you with around-the-clock peace of mind.
Choosing a Senior Camera Solution
First, you must obtain the consent of the senior person. Recording someone without his or her consent has consequences. Even the seniors agree on the elderly monitoring systems, you cannot place the security camera for elderly parents in places where your family members, guests, and caregivers have an expectation of privacy, such as the bedrooms, bathrooms, toilets, etc.  Last not least, you only consider reliable security camera to make sure your elderly monitoring cameras and systems are secure, to avoid any risk of leaking any private information
The cost of installation may also be a hurdle. The best cameras for elder care should be as simple as possible so that your parents/grandparents (or yourself) can install them independently without the need to hire professionals. Ongoing maintenance of in-home monitoring systems for seniors will be another factor you should consider. Traditional fixed or PTZ cameras while good may be expensive to install and maintain.
The Must-Have Traits For Elderly Monitoring Cameras:
Firstly, you need to figure out why you want an in-home monitoring system for seniors and where you intend to place the elderly security cameras.
For example, if you simply need a video surveillance system for the elderly in the home that can allow you to check up on the seniors when you are not there so that you know the senior is comfortable and his or her movement and balance can be observed, remote viewing and high-quality video quality would be the important features. Two-way audio will also be an important feature if you want to talk to your beloved elderly parents or grandparents, like inquiring about their health conditions.
If you are a retired senior citizen living alone and want a camera monitoring system to protect your home against burglaries - easy installation, smart motion detection, and high resolution are the essential features for you.
When thinking about a security camera, the senior person, the location, and the reasons for monitoring must be studied. What is the area to be monitored? How big is the space and does more than one space require monitoring? Remember that someone will not be viewing the monitor constantly, so you should develop a plan to receive alerts if the senior falls. The lighting in a room is also important in order to view the elderly clearly.
Where do your elderly loved ones need security cameras? Where in the home is the senior-most vulnerable to internal or external hazards? Are there areas in the home that are prone to accidents, slips, and falls, or break-ins? The goal should be to thoroughly understand the home and become qualified to determine the best way to keep the senior loved one at home and safe from accidents and intrusions.
Some common areas in the home that generally pose a greater hazard for the elderly are:
Staircase
Stairways are the leading cause of accidents and injuries in a home. A monitoring camera can help ensure that the loved one follows safe practices, such as always using the hand rails. Both Nooie IPC100 Cam360 and Nooie IPC007 Indoor Cam are ideal for your staircase. The choice is dependent on the area of coverage.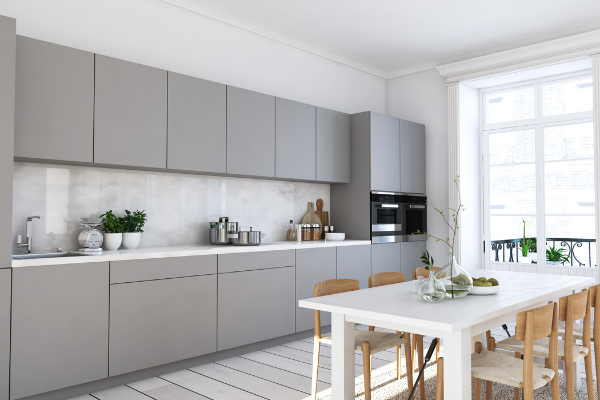 Kitchen
The kitchen is a potential cause of fires in a home from cooking and use of electrical appliances. The senior person may forget to turn off a stove or electrical device. A security camera increases the chance that these potentially dangerous situations are caught before they occur. Both Nooie IPC100 Cam360 and Nooie Indoor IPC007 Cam are ideal for your staircase. The choice is dependent on the area of coverage.
Front & Back Doors
Front and back doors are good locations for security cameras because they monitor a loved one's entry and exit can observe possible intruders. If you live in a landed property you may wish to consider Nooie IPC200 outdoor camera and if it is indoor one of our video doorbells or Nooie IPC007 Indoor camera.
If you want the best in home security cameras for elderly, Nooie is certainly your top choice. The products 360 Cam and Indoor Cam are both great options as elderly monitoring cameras for you.
Both feature smart elderly monitoring features such as :
HD Quality images with superior night vision
PIR motion and sound sensor, which enables you to receive real-time alerts in case of any emergencies.
Two-way talk so you are free to speak and listen to your elderly parents or grandparents anytime and anywhere, expressing your deep concern.
Easy installation - no need to worry that your seniors may have difficulty in the installation or use!
Easy-to-use App with its plug and play feature
We are 100% online!
No retail stores, giving you greater savings!
Mailing address:
Singapore Lite
22 Sin Ming Lane, #06-76
MidView City, Singapore 573969
email: hello@singaporelite.com