Smart plugs (and power outlets) are an easy and affordable way to upgrade ordinary appliances, cameras, lighting, and any other electronics into smart home devices that you can control straight from your smartphone. However, this is for basic on/off control or scheduling of gadgets and appliances.
For a start you need to make it can fit and position properly in your home or office, next you will have to consider what it can do. Most smart plugs let you use your phone to turn control power—so if you've plugged in a lamp, for instance, you can turn it on or off no matter where you are. And most smart plugs also offer some form of scheduling. If you simply want to turn your connected coffee machine or aircon or lights on at the same time every weekday morning, you can do that with a smart plug . Most sophisticated ones, let you program several devices to interact with each other. Some let you program scenes based on conditions such as temperature, humidity, and sunrise or sunset times. Others have preset "away" scenes for when you're on vacation, that turn connected devices on and off to make it look like someone is home. Scene options vary from plug to plug, so it's good to keep in mind what automation options fit your needs.
If you are environmentally friendly or likes saving money, look for a plug such as TP-Link Tapo P110 that supports energy monitoring. It provides a detailed breakdown of how long your device has been on over the entire day,  your (estimated) monthly and daily power usage in watts so that you can monitor your power usage.
Features aside, installation and app design are also major factors. It is important you choose with a good app and from a reliable brand. Easy to install and simple to use, TP-link's Tapo are one of the highest-rated smart home apps with supports IFTTT and offers Amazon Alexa and Google integration.
At Smart Camera Singapore, there are several versions of the TP-Link Tapo Smart Wi-Fi Plug Slim, with energy monitoring  Tapo P110  and without Tapo P100. These use Tapo smart home apps allowing you to switch the plug on or off when you are away from home as well as set schedules and timers with the P110 model also analysing the device's real-time and historical energy consumption so you can monitor your usage. It's compatible with Amazon Alexa, Google Assistant and Samsung SmartThings.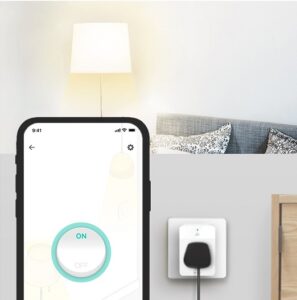 Smart Camera Singapore - Smart Wifi Plugs
Whatever your needs are, we are confident you will be able to find a use for our smart wifi plugs. Whether you are to automate your home, turn on lights or appliances or monitor your power consumption we can help you.